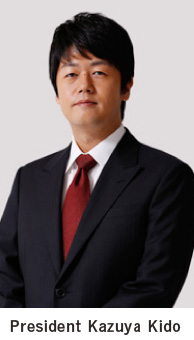 I really appreciated everybody's great support and patronage to CAN DO all the time.
We had 20years anniversary of foundation in December 2013, and 10years anniversary
of the listing to Tokyo Stock Exchange 1st section as first company of 100Yen shops business in November 2014.
Under the circumstances of these events, we are proceeding a revolution called
"2nd Creation". This revolution is for all fields of "Stores", "Products" and "Business framework" in order to meet with the changes of the customers and an era.
CAN DO never stops.
"Creation of the stores" :
More than 120 of new concept CAN DO stores are opened as of the end of the last fiscal year.
"Creation of the products" :
We are moving forward for fulfillment of specialty private brand line-ups called "Do! STARS",and new series of "toi-toi-toi Marche" by which people can experience a joy of handcraft easily.
"Creation of business framework" :
We have been improving our business framework by following 2 improvements.
1) To review our store line-ups in order to meet with various
needs of our customers more precisely based on POS data
analysis.
2) To review our logistics program.
Although we are still in process of "2nd Creation", we've
received a positive response for our changes from our customers.
We hereby declare " Trust No.1" as our new "Vision".
We would like to be No. 1 trustful company to our customers, and also would like to have a stronger relationship with our involved business partners, shareholders and employees.
In other words, we would like to be trustful to our social responsibility.
Your continuous support to growing and challenging CAN DO would be highly appreciated.